Fast and consistent packing for tomatoes on the vine "clusters"
Don't waste your money packaging over-weight boxes.
Cluster Pac will help you maximize your profits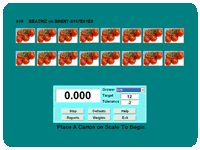 Designed to speed the packing and weighing of tomatoes on the vine. Over-weight boxes will cost you money, but underweight packing can cost you even more in lost customer confidence and fines.

Cluster Pac uses a single calibrated scale, a specially designed workstation and a custom computer program to ensure that each box is within your specified weight tolerance. Not too heavy and not too light.

The packing person weighs a box from the conveyor and then follows the instructions on the computer screen. Removing clusters from the box until one or more clusters from their workstation, when added to the box will result in a package with the proper weight.The Cluster Pac system is designed to reduce costs, increase speed and consistency of package weight and therefore maximize your profits.